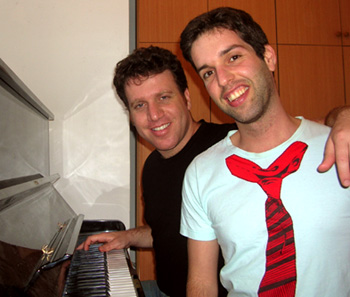 It all started in 2007. I had just finished studying Jazz piano at the Utrecht Conservatory in Netherlands. Determined to stick to my musical profession I decided to create a website that would let me share my knowledge and experience. I looked around and saw that there was no website that gave thorough and professional information about piano teaching, with a personal touch .
During my second degree studies at the Jerusalem Academy for Music I met Ido who was also teaching piano, and together we decided to create a website where we would share our knowledge and bring happiness to all whose dream is to learn how to play the piano. Since then, our website – Piano-Play-It, has become a major empire.
We created hundreds of piano lessons for beginners, intermediate and advanced players. We created piano tutorials of the most popular pop songs and classical pieces which we arranged beautifully.
We made sure our lessons are with a sense of humor, understanding the needs of our students and more importantly, we're all about having fun while enjoying the learning process. Piano-Play-It has reached more than 10,000 students a day from all over the world.
We've been getting mails from students who succeeded learning to play the piano thanks to our new and simple methods. Our experience with Piano-Play-It made us realize that we need a quick and easy way for visitors to our website to learn how to play the piano.
Our courses at – Piano-by-Chords – are giving a new and original method to learn everything about chords, and how to use them in songs. We've been getting lots of feedback from our students who just learned with our method, saying that these courses are exactly what they are looking for. We hope that you too will join us and enjoy our unique learning experience.